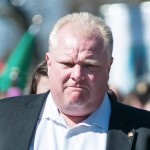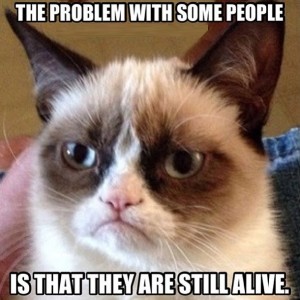 Details are now coming out about a recent movie deal, for internet and media sensation Grumpy Cat, also known by the name Tardar Sauce. It looks like Ms. Sauce has landed the lead role in the upcoming feature film chronicling the troubled life of Rob Ford, the Mayor of Toronto. Grumpy Cat beat out Rosie O'Donnell for the lead role to play the troubled mayor of Canada's largest city.
In an interview with the producers, they explain why Tardar Sauce just felt perfect for the role.
"We really wanted an actor who could understand what it was like to constantly be hounded by the media. We wanted to combine this with Tardar's broad emotional range as an actor to really be able to get inside the mind of  Rob Ford. We did look at other potential leads, such as Rosie O"Donnell, Jon Goodman and Eric Cartman, but Tardar nailed the callback audition."
It's not the first time a movie was done on a Toronto mayor. In the mid 90's Richard Simmons won the leading role in the documentary turned uproariously funny comedy about then Mayor Mel Lastman. When asked, most Canadians thought the two men were always one in the same – that Simmons was just an alter ego so the mayor could stay in shape and have fun at the same time.
More Challenges for the Beleaguered Toronto Mayor
Meanwhile, Mayor Rob Ford's problems continue to mount. Today, another staffer resigned the mayor's office after repeated requests by the mayor to "make me an evil cup of tea!!". In an interview with the recently resigned press aide it was apparent that the Mayor had named an evil looking kettle as his new chief of staff.
"He always had his office door closed, but I could hear him talking to someone. I knew he didn't have any appointments or phone calls, but they would talk for hours, sometimes I would hear yelling in a foreign language. I thought I once heard crying. That's when I decided to go in and make sure he was okay and there it was, the kettle sitting on a stool at his right side. Then he demanded I get to know my new boss by making him an evil cup of tea."
It was later learned that the kettle, a recent immigrant from Germany, was now calling the shots before things really started to boil over for the Toronto mayor.
The often wise-cracking Mayor Ford could not be reached for comment. It was rumoured he was either at an unscheduled meeting in the West end of Toronto or was being fitted for his new hands free Whopper harness in an effort to drive more work efficiency during meals.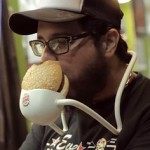 Coincidentally Burger King is in discussions with the producers of the upcoming film on the mayor for a product placement deal using a "cat-sized" burger harness.
That's it for this Friday. A good week to Run with Scissors!