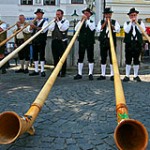 On the first post under Running with Scissors – a sharp look at the follies of marketing, we look at VISA's #smallenfreuden marketing campaign.
You may have seen the videos or commercials and asked yourself "What the hell was that?" #smallfreuden is a cunning plot to build buzz around a new promotional marketing program VISA Canada and their marketing agency, BBDO Proximity have cooked up using good old fashioned mystery.
A recent article in the Globe and Mail gives some pretty good coverage of both the confusion and intent behind the program…
"In Visa's case, the technique has helped the company to build up chatter around its campaign, and to convince non-marketers to help share it around the social Web, said Peter Ignazi, executive creative director at BBDO Proximity in Toronto. It has also raised some skepticism.
"A lot of people are saying it's a waste of marketing dollars. They're really concerned about our mystery client," he said. "People are saying this won't work, and at the same time they're using the #smallenfreuden name, and helping it work. It's amazing."
It's amazing? Dunno about that. In a day and age when the public acts as judge, jury and executioner, you may want to rethink how you go about such campaigns particularly one so self-serving as increasing the use of your credit card for small purchases. Take a page from McDonalds on #McDstories – people using hashtags to build negative sentiment is a reality and the opposite of amazing.
Sounds like a possible #großfehler to me…
Is all buzz good buzz?
So hitting the twitter stream under the hashtag #smallenfreuden you find a myriad of shill tweets, critical tweets and hilarious tweets. Here are a few…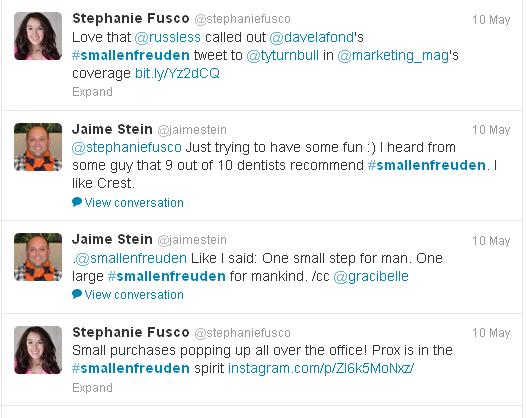 It seems like they have some mommy bloggers on board and the agency SM folk actively pushing it. As they should, I would imagine there is some serious accountability on this if/when it #fails.
Marketing Mag has also picked it up and has a poll running on their site. Check it out.
Leaving their partners holding the bill?
Any merchant who sees customer usage go up for small payments is bearing the brunt of the financial burden through fees passed down from VISA to the bank to the merchant and many times, to the customer. Were I a small corner store or taxi operator, I'd be taking down my VISA sign right about now.
Corporate Social Responsibility Ring a Bell?
When do brands become accountable for their advice? Is promoting the use of your VISA on every purchase a wise thing to promote for VISA card holders given the current financial climate and consumer debt-asset ratio?
I mean we harp on and tear into fast food joints for promoting the hell out of fast food and its tie to obesity. Well what about financial wellness? Where is the line?
Do we also need VISA to put out some responsible ads promoting "financial restraint?" Maybe we need to form a charity watchdog group like we did with MADD for drinking and driving? How about the parents whose college kids or teenagers have a card and the parents are stuck paying the bills? We'll call it PAID – Parents Against Indiscriminate Debt. (Just trademarked that by the way so scram!)
Past all that, they forgot one of the golden rules… Keep it simple. #smallenfreuden is not easy to remember and is very close to #smellenfrauden
In my opinion, VISA Canada is Running with Scissors.
Meanwhile I suddenly have a hankerin' for beer and bratwurst. Dunno why…