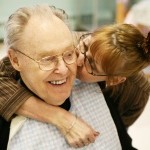 [The following is a theoretical exploration on Situational Influence to understand how situations impacting customer decisions can be identified and leveraged by marketing organizations to improve customer acquisition and the customer experience. This influence theory is part of a greater body of work called "Marketing is Influence" – an exploration of  how marketing organizations can identify, harness, optimize and focus the power of influence within their existing marketing to improve customer acquisition and retention.]
The Consumer Situation (based on a fictional case)
Janet and Patrick are a middle income couple caring for her elderly father, now 82 and using a wheelchair full time. They had decided two years ago that because of the progress of his dementia and the complications of a stroke years earlier that it would be safer for him and more affordable for the family to have Janet's dad move in with them. But caring for someone with complex chronic illness isn't cheap or easy and government assistance only goes so far.
The family was in stressful times. Janet had taken unpaid time off to care for her dad, Patrick managed to pick up some overtime, but the couple was still under financial duress. Janet had a great support network of friends, family and the charitable communities of both Alzheimer's Society and Heart and Stroke. Further Janet a lot of time online doing research and information to help her family cope with this ongoing care giving situation.
But last week their minivan, an older model ill-equipped to accommodate a wheelchair, broke down with serious repair costs and time required. The stress was overwhelming and her dad needed to get to doctor appointments every other day.  On top of this, Patrick couldn't afford to take time off as he provided the family's only means of income.
Janet shared her worry with her friends by phone, social media, and through her charitable connections trying to look for solutions for their cash-strapped family.
Should they repair a vehicle that not only may break down again but increasingly is no longer suitable for her care giving needs? Should they buy a new wheelchair accessible vehicle and incur the crippling financial costs?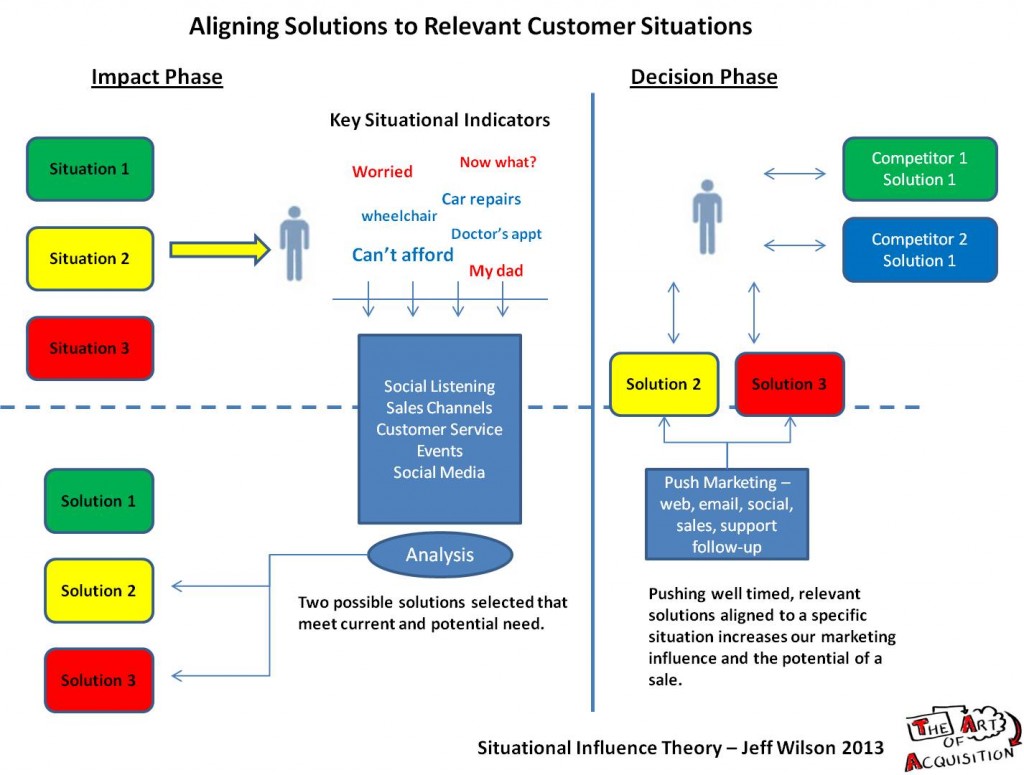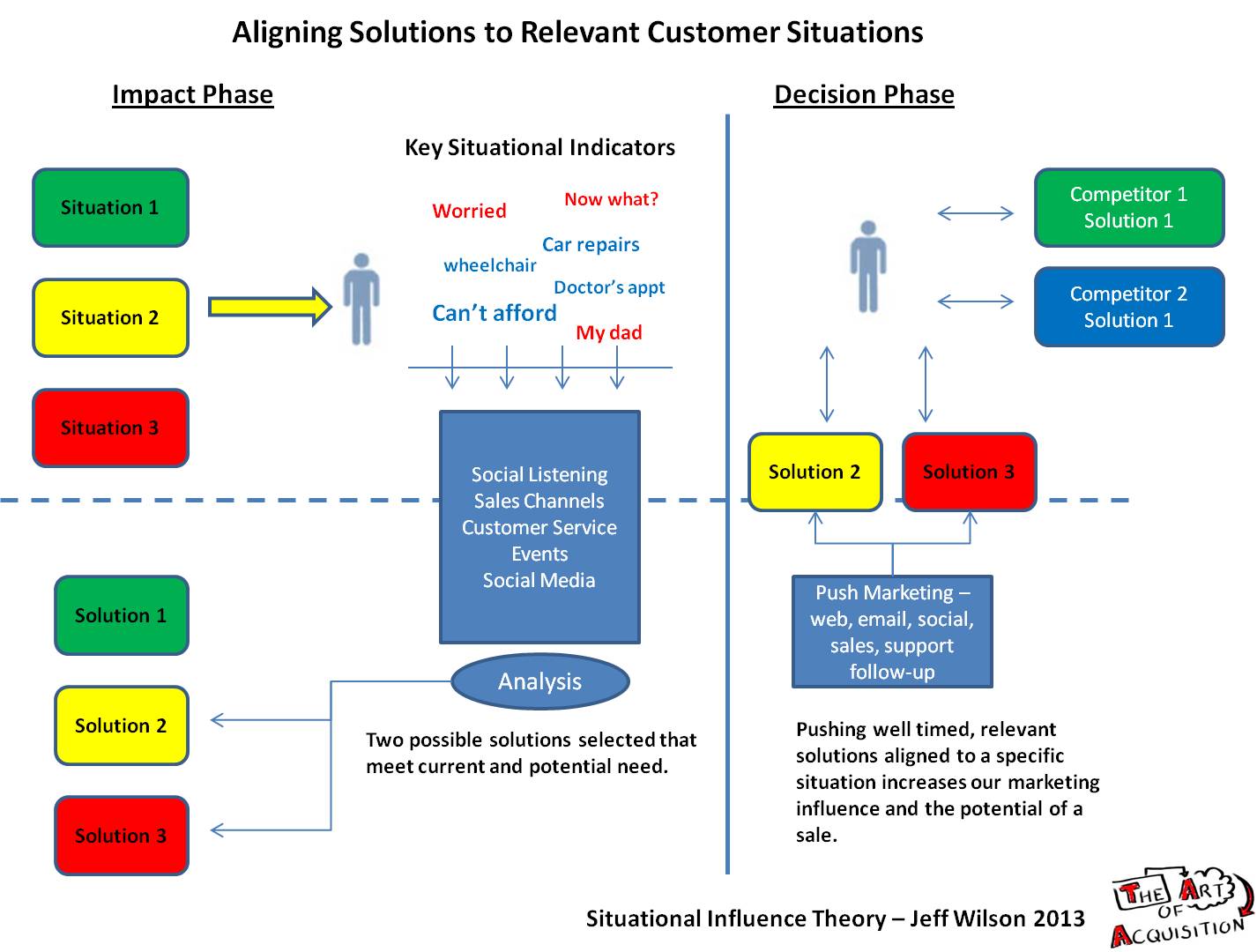 Company Y is in the accessible vehicle business and uses a variety of cheap and cheerful marketing tools to communicate with their market. Further, Company Y has built good relationships with local charities and is heavily involved in their communities.
Company Y has made significant investment in research to understand customer need and the situations that influence their life choices. part of this is understanding:
The many possible scenarios that their customer may go through
The urgency and pressure they will be under to find a solution in each situation
The Key Situational Indicators that give Company Y advance notice of potential need and how best to accommodate those needs with relevant, well-timed solutions.
Through channels and tools including web, forums, events, charitable partners, social media, customer service, sales people and social listening tools, Company Y identifies key situational indicators around Janet and her family. Company Y selects the appropriate mix of product and services (a quality used accessible vehicle on a leasing plan with a two year warrantee built into the monthly price) to get in front of Janet through a variety of sources, including Janet's own enquiry a day earlier.
Several competitive companies are also providing responses to Janet's enquiries and the community provides a mix of recommendations about each solution based on group and personal experience.
Theoretical Conclusion
By aligning appropriate solutions to an actual customer situation, Company Y overcomes many key challenges to an  initial sale and is in a position to build long term loyalty with Janet and her family. The solution meets both emotional (worry free, get on with life, better quality of care for dad) and logical (affordable, reliable vehicle) needs and resolves the situation in a mutually beneficial way for both Company Y and Janet and her family.
Situational influence if one of the most powerful forces we have to deal with as businesses. Many times, multiple situations are affecting customers from different angles and in different ways – positive and negative, pushing them away and pulling them towards us. If companies can begin to adjust their focus to take into account specific situations their potential (and current) customers will face, they can develop a set of well aligned solutions that can be delivered based on Key Situational Indicators (a mix of both emotional and logical indicators) to greatly improve both relevance and timing.
Your Marketing IS Influence, you just haven't fully realized it yet. You need to understand how influence actually works within what you are already doing. You don't need fancy terms, tools or processes despite what others may say. What you need is a new perspective on your own brand situation to harness the potential of influence within your existing marketing.
The Socratic End…
I am always left with more questions than answers. Hopefully we can find answers together or at the very least, ask better questions!
Do you believe this is an accurate model?
How could it be improved?
Can you identify specific situations your customers will experience?
Does your company have specific or general solutions for customers?